Events all year round
Events in Gengenbach
Gengenbach is a town of festivals and culture. Gengenbach likes to celebrate. Gengenbach has a world-famous advent calendar. And Gengenbach keeps customs and traditions alive. Be part of the events and happenings in our charming half-timbered town!
February: Alemannic Gengenbach carnival
Dates back to 1499. With "Hemdeglunker", waking up the joker in the Niggelturm, the "Hexebesenstelle", parade on Carnival Sunday and "Schnurre und Schnaige" in the inns.
June/July: summer of culture (top tip)
Impressive summer festival with theatre, comedy and concerts. We are a sponsor and will be happy to organise the tickets for you!
September: traditional Gengenbach wine and town festival (top tip)
On the historical market square. With music, wine tasting and culinary delights, the ceremonial entry of the winegrowers and the enthronement of the wine princess.
November: Martini market with fair and stalls
Wednesday and Thursday before St. Martin's Day (11 November).
Nov/Dec/Jan: Christmas market with the world's largest advent calendar (top tip)
Gengenbach's town hall is transformed into an advent calendar and public attraction. In recent years with pictures by artists such as Marc Chagall, Tomi Ungerer, Otmar Alt and motifs of heroes from children's books.
From 30 November to 23 December 2019, 6:00 p.m. each day: ritual window opening. The world's largest advent calendar is on display until Epiphany on 6 January.
From 30 November to 23 December 2019, the Christmas market awaits you with 60 stalls nestling among the historical scenery of the old town.
Musical events in Gengenbach
Concerts at the Summer of Culture Festival in June and July
International Chamber Music Academy in August
Urban concert series in the Stadthalle am Nollen from October to April
Meetings at the Town Hall
Gengenbach Chamber Music Days (with internationally renowned musicians and ensembles)
Concerts in Gengenbach churches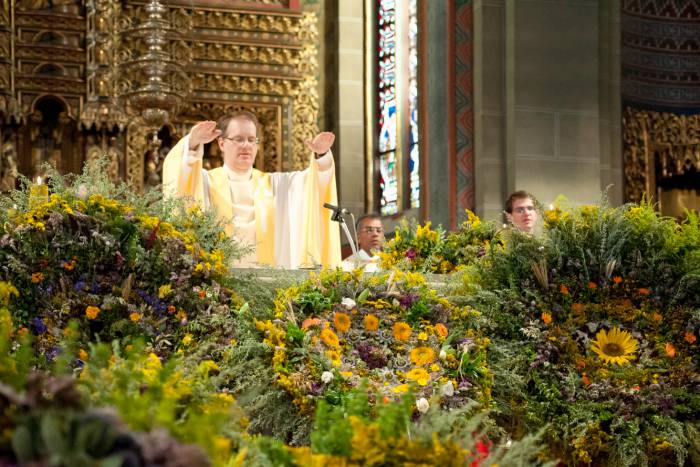 Traditional church festivals in Gengenbach
Living customs
March/April: Palm Sunday: Blessing of the palms at St. Mary's Town Church. With palm branches up to 15 m long.
May: Corpus Christi with mass in the monastery courtyard, magnificent procession and flower carpets, music bands and civic guard.
August: Herb Bouquet Day on Assumption Day: Artfully bound herb bouquets are carried to the consecration in St. Mary's Church and then awarded prizes in front of the Town Hall.
During some events and functions in Gengenbach, the rooms in our hotel are very much in demand. We recommend early booking!