So charming. So active. So versatile.
Holiday in Gengenbach
Holidays in Gengenbach. Cheerful half-timbered buildings with wooden shutters in winding narrow streets. Defiant turrets topped by stork's nests or housing an ancient baker's oven. Artfully forged inn signs and street lamps hanging from building walls. Flower-adorned stone boxes and Renaissance arches. Pretty little shops and cafés.
And the city gates are like magical thresholds. Anyone who walks through them is immersed in a different world. This is a romantic, historical, charming place. Mellow, homely, secure. Here, sundials still measure the time. You can enjoy watching time pass by on holiday in Gengenbach. With the feeling that all is well. Laissez-faire with half-timbered charm. That's the Gengenbach feeling.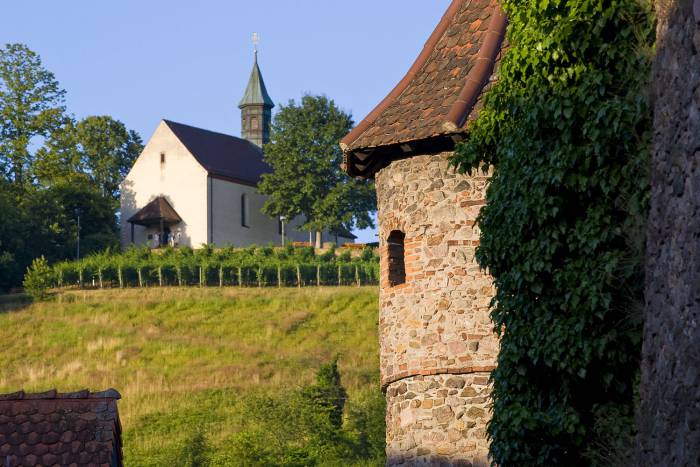 Gengenbach. Kinzigtal.
Black Forest. Ortenau.
So much variety in such a small area. So many leisure activities on holiday in Gengenbach. The blue band of the Kinzig, along which you can cycle leisurelyfor kilometres. The orchards of the Ortenau, which paint whole areas in blooming white and pink in spring. The forests of the Black Forest, which stretches very gradually towards the mountains here in the Ortenau. Vineyards leading to the wine hike invite visitors and spread colourful cheer in autumn. A blessed area. A favourable climatic location. The chances of a sunny holiday in Gengenbach are good. Whatever happens, it will be extremely pleasant.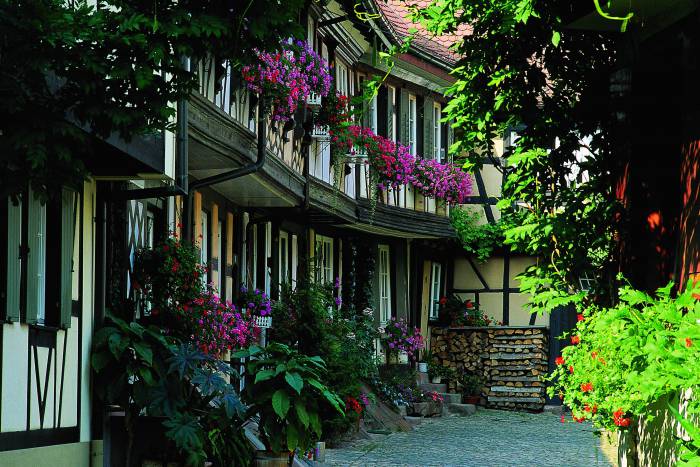 Explore Gengenbach and the surrounding area
Your holiday starts right outside the hotel
Hotel & Restaurant Die Reichsstadt is located in the heart of Gengenbach. The name is reminiscent of the golden days when Gengenbach was a proud, free imperial city with special privileges. In less than ten steps you move from Engelgasse to Victor-Kretz-Straße, see one of the medieval city gates on the left, the historic market square with the town hall on the right and the former Benedictine monastery straight ahead. Hiking trails branch off from the city in all directions, on the level, up – to the "Bergle" or further up into the Black Forest – through vineyards or forest.
We are happy to give you personal tips. And we will be happy to lend you the right bike for your bike tour during your holiday in Gengenbach.