Die Reichsstadt gourmet restaurant & garden
Seductive enjoyment for all senses
Sometimes you have to be lucky to get a seat in the gourmet restaurant Die Reichsstadt in Gengenbach or on our beautiful garden terrace.
Every single dish bears witness to the ambitious, creative culinary art of hotel and kitchen manager Gerhard Hummel and his team. High culinary art with deep regional roots. 
Classics from the Baden region to rediscover and gourmet dishes to fall in love with. Passion for cooking. Magic.
No wonder guests and restaurant critics alike are fans. Why not try for yourself?
Opening times
Restaurant:
Tue to Sun from 5:00 p.m    

Garden restaurant:
Tue to Sun 5:00 p.m. to 10:30 p.m

Ordering times:
6:00 p.m. to 9:00 p.m

Bar times:
9:00 p.m. to 1:00 a.m
Air-filtration system
Carefree enjoyment – this also goes for the interiors of Die Reichsstadt. In addition to all the usual hygiene measures to prevent coronaviruses, we have installed a high-quality air-filtration system in our restaurant – with an efficiency of 99.99%.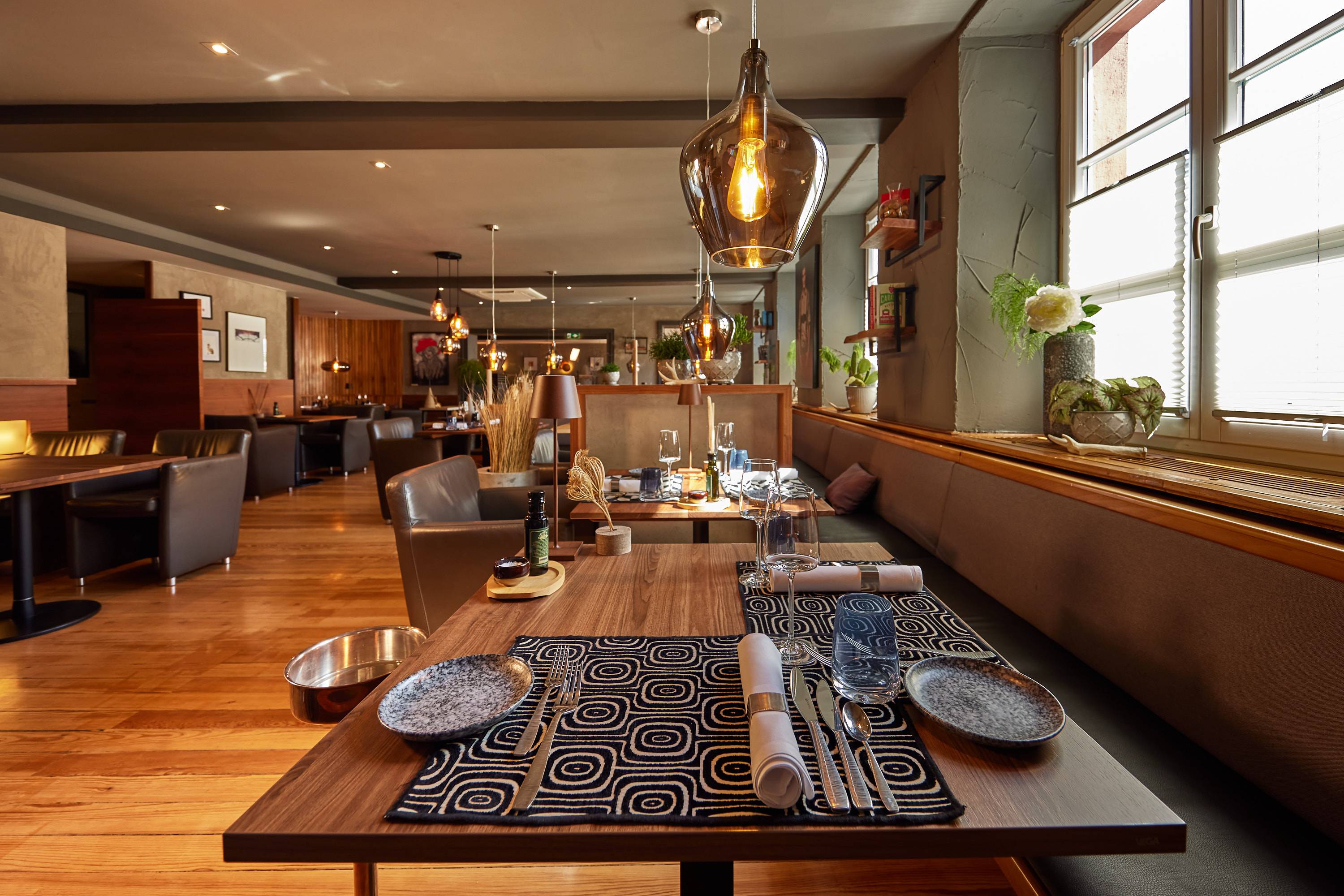 Gourmet time in the parlour
Gourmet restaurant
Warm colours meet bright elegance. Stylishly decorative on historical charm. Candles cast their festive, romantic glow. Fresh flowers adorn the table.
And on the plate, a small work of art, a composition for all the senses. This is your gourmet time. In the elegant parlour of the restaurant Die Reichsstadt in Gengenbach.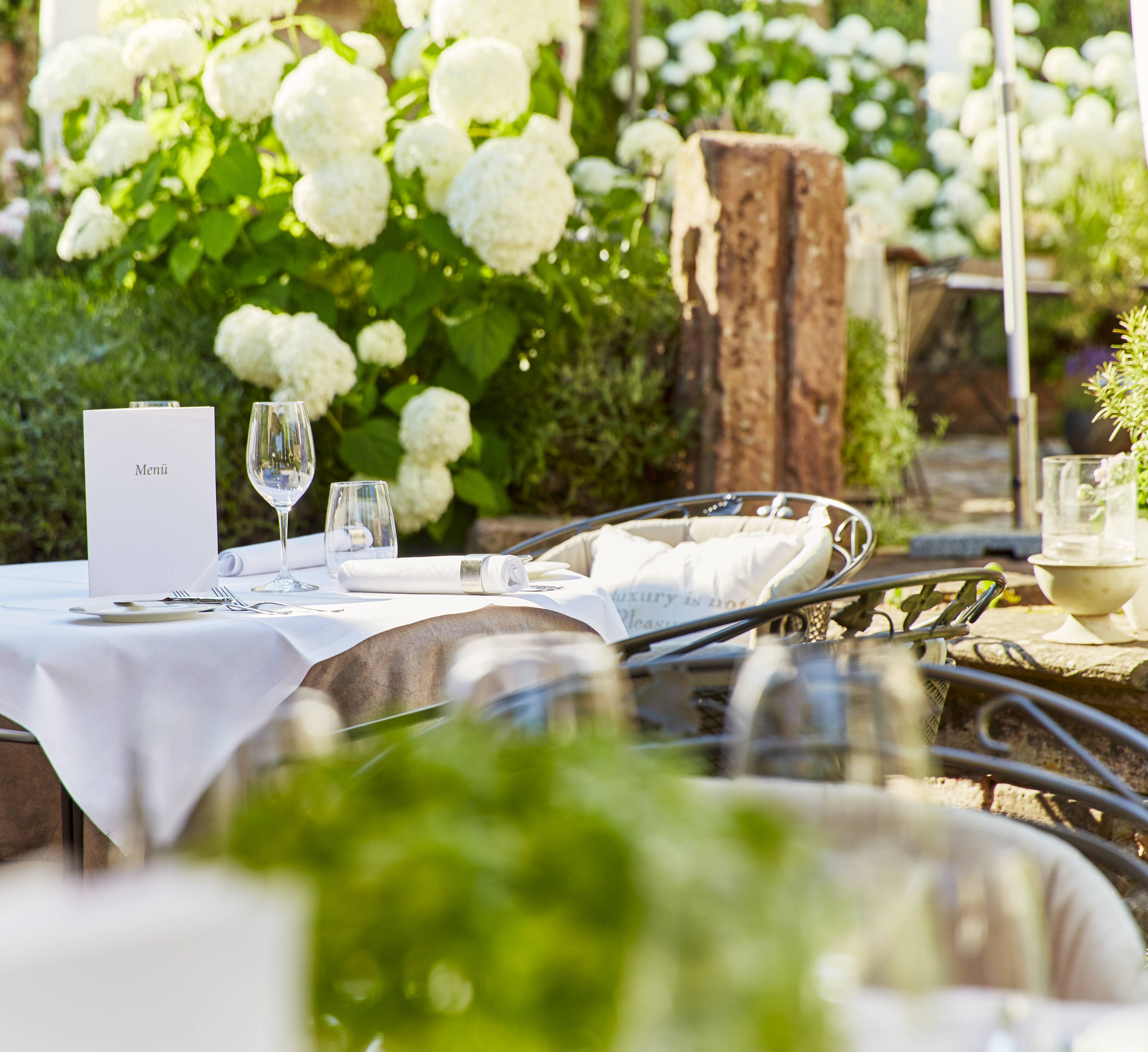 Enjoyment in the open air
Garden restaurant & garden lounge
The garden restaurant at Die Reichsstadt is a veritable dream, nestling between the historic city walls of Gengenbach. Tranquility and birdsong. Earthy beige and warm white at the tables – the colours of summer in the garden. Hydrangeas and lavender, cypresses and olive trees. Flowering natural eye-catchers. And on the plate: eye-catchers that melt in your mouth. Enjoy the Hummels' creations course by course, until the pleasure ends with a dessert variation under the starry sky.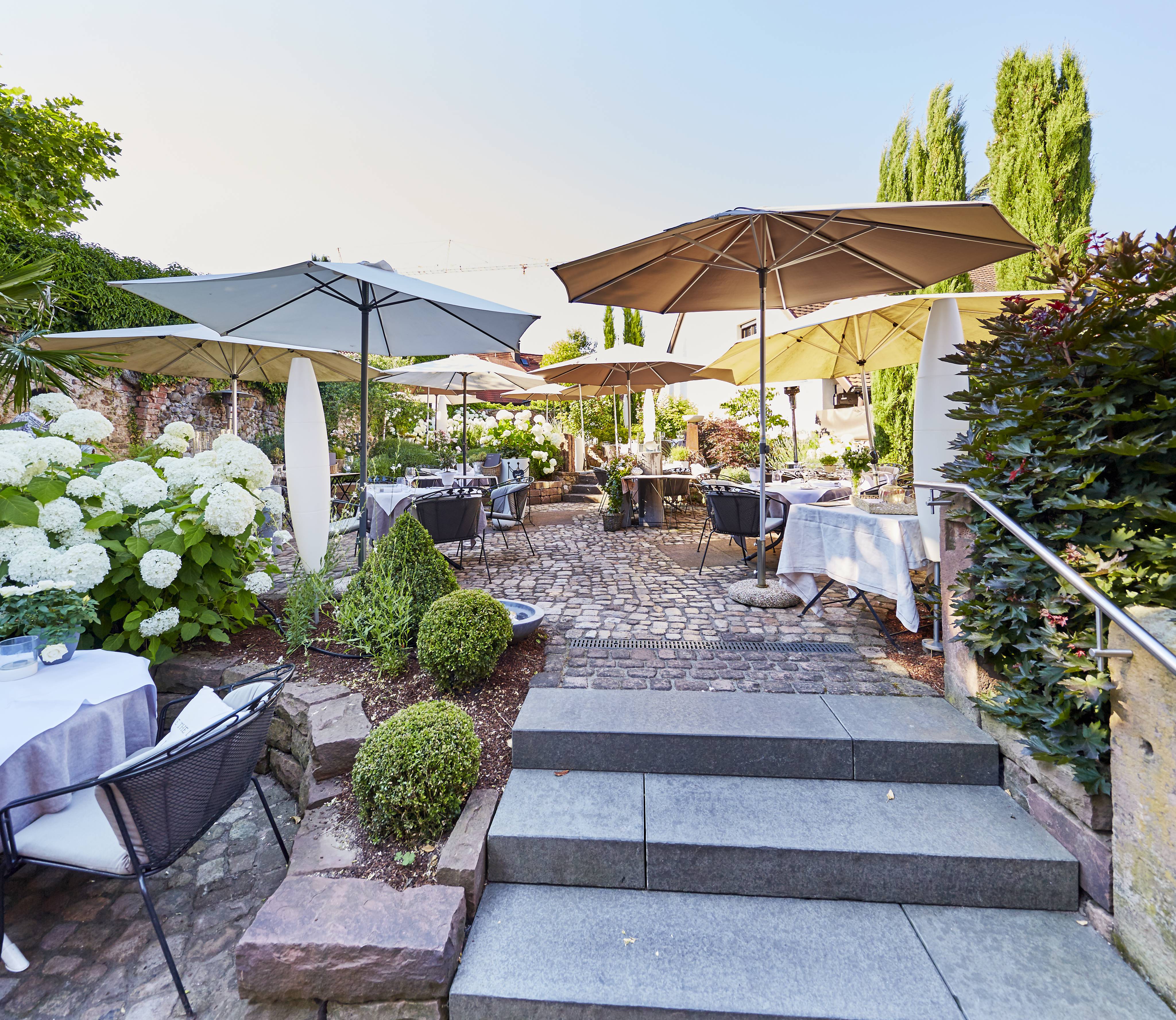 Under the open sky
Breakfast
When the weather is nice, hotel guests can also use our quiet garden in the morning for breakfast under the Gengenbach sun with a birdsong accompaniment. What a wonderful start to a new day of your holiday...
Book your break at Die Reichsstadt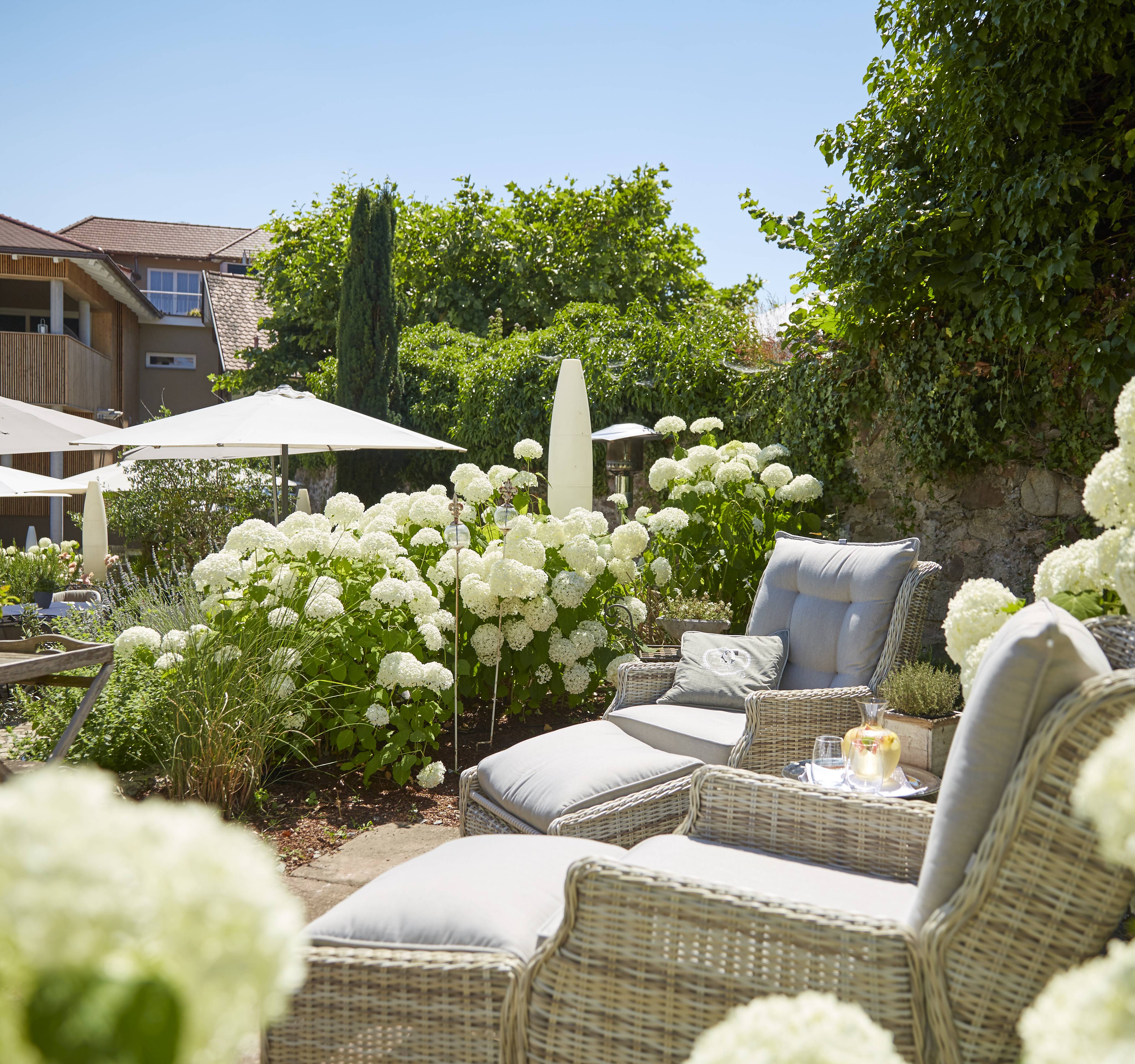 Cosiness
Garden lounge
Right next to our garden gourmet terrace, a cosy garden lounge invites restaurant and hotel guests to relax and chill. We think that this is where our cocktails taste best. Which one can we get for you?
Our gourmet restaurant in Gengenbach in the Black Forest
The awards
The best award for us is your happy smile when we ask "did you enjoy your meal?" But of course we don't want to deprive you of the voices of professional restaurant critics.
Guide Michelin: Continuous recommendation since 2009
Gusto – The best restaurants & country inns in Germany: Seven pans (2016) "Advanced cuisine"... "We could eat like this every day"... "Terrine of foie gras with onion confit and brioche (...) Here they pulled off a rare accomplishment: an excellent interplay of tension and contrast, of creamy liver, sweet and sour fruitiness and tart undertones. Our compliments! (...) And finally, we can report that the dessert, a duet of rhubarb and vanilla cream with dried yoghurt and woodruff jelly, also held its own with the rest of the menu in terms of taste, craftsmanship and appearance, and our upgrade by an entire pan is therefore the inevitable consequence. Although it would have been deserved anyway thanks to the friendly service and cultivated culture of fine dining."
Schlemmer Atlas: 2.5 cooking spoons (2016)
Bertelsmann's big guide – restaurants: three toques for sophisticated cuisine and good value for money (2016) "An outstandingly fresh cuisine in which trends and traditions are harmoniously combined" ... "Ingredients from the surrounding countryside, combined with skill and finesse to create regional dishes, complemented by fine classic cuisine and Mediterranean specialities."
Meyer's Guide: "Excellent cuisine" (2016) "The restaurant is one of the top addresses in the region and has established itself as a fixture of the finest food and drink. Gerhard Hummel focuses one hundred per cent on performance in his kitchen and most of his dishes carefully demonstrate which trends are setting the tone in the restaurant business today."
Horrmanns Hoteltest (2013): "The restaurant, which has won several awards (including the Bib Gourmand Michelin) with host Gerhard Hummel at the stove, offers exceptionally delicious regional cuisine with seasonal dishes. Everything, absolutely everything that was put on the table, even with a larger group, was aromatic, perfectly prepared by hand, simply delicious. The wine care is excellent."